FP800-F200 auto flat surface labelling machine
FP800-F200 auto flat surface labelling machine
---
---
The FP800-F200
auto flat surface labelling machine
is configured for from above or below is a well planned solution; Used on Flat products or Tub/Jar Products the machinery has
FP800-F200
accuracy and ease of settings. If you have products needing one, two or even three labels, the
FP800-F200
has the forethought of design to make the job simple to set-up again and again. The picture below shows how a Top and Bottom Labelling machine is configured with two Main Conveyors; one after the other. The gap between the two main conveyors gives the necessary access to label the product from below.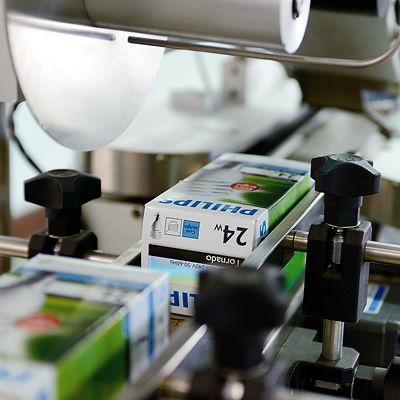 Label Specifications that can be Catered For:
Label minimum thickness – 70micron
Label reel core size – 76mm inside diameter
Label reel outside diameter – 380mm (std)
Label minimum size – Vertical 15mm/Horizontal 15mm
Label web maximum height – 80/160/215/260mm (selected at the time of order)
Label gap minimum size – 2.5mm
Labeling Head Specifications:
Speed Synchornised to Label Feed with Digital Ratio User Setting (standard)
Dispensing speed minimum – 5m/min (Standard)
Dispensing speed maximum – 30m/min (Standard)
Label accuracy ± 0.75mm – not including variations due to the Bottles or Labels
Stepper motor drive – 5 Phase – Note older machine designs use a 2 Phase Motor that is more Coarse and Hot in operation
Missing label detection (Standard)
Low-level roll detection (Standard)
Un-locked Drive Roller Assembly alarm (Standard)
Clear label gap sensor (optional)
Label verification (optional)
Job Memory:
120 jobs
It is a planar/ right-angle labeler applicable for labeling on flat and irregular shaped bottles, paper boxes, tabs and plastic bags. For example, it can be used for electronic supervision code label and right-angle label. We can design in cylinder feeding or cylinder collecting structure to meet customer's requirement.
Products Diameter
Width: 8mm~92mm
Height: <170mm
Dimension
1600mm×560mm×1600mm
Speed of Labeling and Electric Coding
0~140(bottles/minue)
Precision
±1.5mm
Inner Diameter Roll
φ76mm
Outer Diameter Roll
φ300mm
Label Height
10mm~90mm
Label Length
15mm~250mm
Conveyor Direction
L→R / R→L
Electrical Requirements
220V50HZ
Power
700W
Label Size
Determined by The Size of The Bottle
Weight of Label
No Requireme
Inquiry - FP800-F200 auto flat surface labelling machine